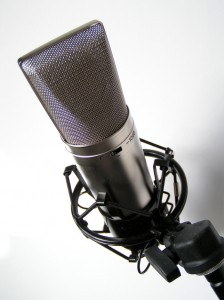 The voice over industry has a wide spectrum of applications and as a voiceover artist, the industry demands adaptability and flexibility from us. I have undertaken voice over work for a range of different projects that have provided me with these very important voiceover skills.
The most common types of projects that require the skills of an experienced voice over artist are:
  Television adverts
  Television programme narration
  Website product/service/app explainer videos
  On-hold messages and IVR for telecoms systems
  Professionally recorded voicemail messages for mobile phones
  Radio adverts and commercial production
  Online radio adverts for the internet
  VO for smartphone apps
  Audio greetings for websites
  Radio jingles and promo's
  Corporate video narration
  Voices for childrens' toys and games
  Public Address announcements ("Voice Of God")
  Narration for Electronic Press Kits (EPKs)
  Radio plays (classical, modern and comedy)
  Podcast production
  E-Learning and audio training courses (For CD/web download)
  Computer game characters/voices/vocal effects
  Voice acting for film/TV/radio/animation
  Cinematic adverts
  Films
I can do all of these and more. If you have a project that is not listed above, then give me a call and we can have a chat.
Listen to my voice
How do I begin using your voice?
You send me the script which you want me to voice.
I send you a quote along with a form to fill in to confirm the project should you wish to proceed.
You give the go-ahead to record the voiceover.
Once payment has been made, the recording will be booked in, and you will receive the finished, edited voiceover within 24 hours*.
Please note:
  Any unusual words in the script must also be spelled out phonetically in brackets.
  *Turnaround is usually within 24 hours, however if the voiceover is for a lengthy project like e-learning etc, turnaround will be longer.
  Audio tracks can be supplied as WAV, AIFF, or MP3s, or for certain phone systems etc uLaw etc may be required.
  Audio tracks can be sent via email, internet file transfer, FTP, or downloaded from my server. Please specify how you would like to receive your voiceover audio file.
How much will your voiceover cost?
For optimum accuracy I always quote per job by asking you what your budget is & what the project entails at the start. My experience has made me aware of the varied levels of client budgets for voiceover projects; I am always happy to work within various parameters wherever possible, so give me a call.
Please note:
  If you would like me to proofread a script before recording, there is an extra fee (price depends on length).
  If careful face-to-face direction is required, I can record material at other studios with you; however this is subject to additional costs.
For more information on my payment terms, please read my Terms of Service.