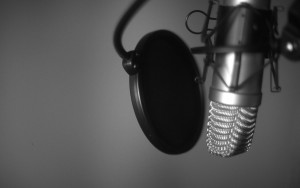 Grab Attention Using Online Radio
**Click for Current Ad Production Offer**
When someone lands on your site for the first time, you need to make sure that you keep them there for as long as possible, and also make sure they come back again in the future. There are many elements to a website that will ensure this kind of result, which include good copy, good images, video and audio. If you make everything as appealing and eye (& ear!) catching as possible, you will succeed in capturing your audience's attention, and hopefully provoking them to take further positive action.
In the case of audio, have something available to play that will be a quick burst about who you are and how you can help them; which in audio terms is essentially what a radio commercial is, which can be used on your website as a kind of 'elevator' pitch.
The Benefits of Using Audio On Your Website
Having audio (and video) on websites is far more commonplace, and necessary, in this day and age of what now is known as 'Web 2.0'. Thankfully, long-gone are the days of static, grainy image'd, overly text-based sites; the end user requires far more to keep them interested and entertained. Like an advert, you only have a limited amount of time when a person lands on your page to hook their interest and keep them there. You want them to arrive and realise that your site is the one with the answers to their questions. Hopefully by then, they'll be enticed enough to pick up the phone or email you to obtain more information, and ultimately, give you the job.
How much of a difference will it really make?
We're living in a far more interactive, multimedia based world. Consumers now expect to see multimedia features on the sites they visit; so by utilising these technologies in a creative way, your site visitors will have a far better chance of finding what they want, which will put you ahead of your competition.
Radio ads by their very nature are short, the information is immediate, and it's yet another cue for the listener to make the next step should they require your type of service. These online radio ads are made to the same high production values of broadcasted radio ads, just that they can be hosted on your website, and are accessible all the time, the only time limit of it's 'airing' is entirely down to you.
As they say, "content is king". That couldn't be more true, and the best thing to do in my opinion, is have the content varied in its many forms. Audio should be treated just the same as text, video and images – it works best when it's regularly refreshed; so don't leave it 5 years before you have something else produced, utilise audio properly and you will have a very satisfied audience.
Radio Commercial Production Costs
This kind of service doesn't need to be expensive; I have packages starting from just £99 for a one-off advert, and custom pricing for longer-term regular requirements. Contact me today for a custom quote.